Masayo Okamoto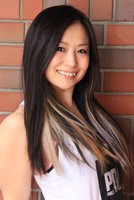 President of JPSA ( Japan Pole Sport Association). Director of pole dance and fitness Studio "Sweetpi-A".Founder and organizer Japan Pole Sport Championship.Professional instructor & performer.
Award History:
Aerial Performance Tournament 2011 (Honkong) - Ultimate Champion
International Pole Championship 2012, doubles division, Art Champion
Intridaction:
Before meeting Pole Dance Masayo had engaged in learning synchronized swimming which can do distinchive expression only in water from a very early age not on the floor.In she 2006 year she met pole dance and was enchanged with the pole dance performance.Soon started learning pole dance by herself. Since 2009 Masayo has achieved solid risults in several International Competitions and has particireted activaly in pole dance fields as sports.Also Masayo has many experiences of judge in International Competitions and hold workshops in the world.
In 2010, open Pole Dance studio "Sweetpi-A" in Nara.
In 2011, open the biggest Pole Dance studio in Japan, "Sweetpi-A" in Osaka.
In 2013,established Japan Pole Sport Association
In 2013, founded and organized Japan Pole Sport Championship in Osaka
Masayo is well known as a leading authority on pole sports fields in Japan and she is working on that pole sport is accepted as a sport of the Olympic Games