Mister Wang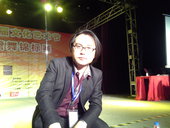 Mister Wang is official representative of International Asia-Pacific Pole Acrobatic Association in China since 2011 year to present time, oganizer of China National Pole Dance Championship and International Asia-Pacific Pole Acrobatic Dance Championship (Beijing) 2014.
Mister Wang is the founder of China Pole Dance Association. Mister Wang pole dance school is the first pole dance school in China which was founded in 2005 in Beijing. He had put in a lot of effort in promoting pole dancing to know as a healthy exercise also fighting for pole dancing to be list in Olympic. Few years ago, pole dancing was not recommended by the public in China but with the effort of Wang has put in, he has also invited famous pole dancers to organize workshop in China which made pole dancing in this generation have be known as the new phenomena of fitness as well as a sport.
The first China Pole dance Championship was founded by Mister Wang in 2007 till now China Pole Dance Championship has successfully organize 7th annual.And Wang's Pole Dance School have also train up a lot of great pole dancers.